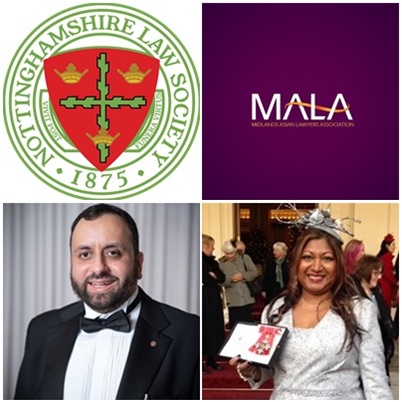 Have you ever thought about being a Judge? This was the first question Jabeer Miah, Head of Commercial and Real Estate at Shepherd and Co Solicitors asked me when we met at a recent event. The question took me back because, no I have honestly never even considered this, nor been asked the question.
The event was a networking evening to promote equality and diversity within the legal profession and was hosted jointly by the Nottinghamshire Law Society and Midlands Asian Lawyers Association.
I attended the evening as I have keen interest in social mobility and increasing the representation of women and ethnic minorities in the workplace and legal profession generally, an interest I know is shared by Gedling Borough Council and my colleagues at Gedling Legal.
The guest speakers were District Judge Afzal OBE & District Judge Sunita Mason CBE, also in attendance were The Rt. Hon. Mr Justice Keehan and The Rt. Hon. Mr Justice Robin Knowles CBE.
Quite an intimidating line up on the face of it, but as the evening progressed it was clear that we were all in attendance to further the same cause and the positive atmosphere left me feeling engaged and eager to contribute.
Both DJ Afzal OBE and DJ Mason CBE discussed the hurdles they had personally faced in becoming Judges: DJ Afzal is the first blind District Judge and was the first in his family to go to university and DJ Mason is female and of Hindu and Muslim heritage. They both spoke eloquently on the need to inspire those from diverse backgrounds to join the Judiciary. As DJ Afzal identified in his opening address, for the public to have confidence in, and respect for the legal system, the Judges who preside over it must represent the community they serve. The proper functioning of the legal system depends on it.
District Judge Sunita Mason also stressed the importance of encouraging and inspiring those from ethnic minorities to not only join the legal profession but to aspire to be Judges. She asked each of us to think of positive actions we can all take to help diversify the legal profession and I felt this was a good way to engage those in attendance and encourage positive actions.
Jabeer's question highlighted to me that even those of us who consider ourselves reasonably well informed may be limited in our own aspirations, so how can we hope to inspire others? I am a female of dual-heritage and not once in my life have I ever thought that I could be a Judge. Now, not to get carried away, I am a trainee solicitor at the moment, I'm quite a long way off being a Judge. However it's dreams and aspirations we are talking about and I believe that the key to increasing diversity in the legal profession and the judiciary is to open up the possibility to those who may not have considered it before.
Pathways to Law is a scheme organised by the Sutton Trust to improve access to the legal profession and this was a topic I discussed with DJ Afzal at length, we both agreed on how fantastic this scheme is to allow young people from diverse backgrounds to explore the possibility of a career in law. It's open to all Year 12 students who are interested in a learning more about the legal profession and particularly aimed at those who:
Have achieved 5 A* – B grades at GCSE (with a minimum of 2 A* or A grades), including grades 9 – 6 in Mathematics and English;
Would be the first generation in their family to attend university;
Have been in receipt of Free School Meals whilst at Secondary School;
Have attended schools with a lower than average progression to Higher Education, or a higher than average proportion of students
who qualify for Free School Meals;
Have parent(s)/guardian(s) who qualify for means-tested benefits; or
Have been looked after or in care
The ultimate aim of the Scheme is to help diversify the legal profession and inspire future lawyers and judges. I was proud to relay that Gedling Legal have offered to host students on the Pathways to Law scheme.
But what else can we do? Working alongside Universities is another way to help students in the very early stages in their career and to help those from wider backgrounds to learn what working in the law is really like. Jabeer attended the event alongside Youssef Labib, a penultimate year law student from De Monfort University whom he mentors. Youssef spoke highly of the experience in helping him on his journey into the legal profession. Again I'm proud that Gedling Legal is also keen to work alongside students to help further their careers and we are currently hosting a student on an internship from Nottingham Trent University.
The evening was a great opportunity to meet likeminded colleagues, to turn our minds to the subject and to consider engaging in positive actions. Ultimately though I think Jabeer gave me the biggest take home message of the night: we need to be asking the right questions of ourselves, presenting the possibilities to others and inspiring a wider demographic to be legal professionals if we want to increase diversity in the legal profession.
So, have you ever thought about being a Judge?